Our 5th Seminar down at HYLAX was a tremendous success.
Over the course of the Presidents Day Weekend in Houston we trained over 60 players in our StickStar Seminar Training Environment.  It was our largest post COVID Seminar in Houston and exceeded expectations.
For the parents who hung around to observe the sessions, they saw us train in our completely unique style of development.  Our practices / training sessions look very different than the traditional approach.  We develop skill in small pieces and then layer the skills onto each other.  We do not take for granted any understanding of skill, and start from our Square 1.  This is StickStars' Component Based Instructional Methodology.  One of the parents referred to it as a "Scaffolding" style of development and we really liked that and agree.
We always start with 3x which allows for players to make their way into the training at different times.  There is a start time, but we understand and plan for folks to trickle in.  With 3x (3 on 3) we teach players to self organize and create pick up games.  Pick up sports don't really exist as much nowadays so that is the first thing we do.  It forces them to self organize. The 3 v 3 allows everyone to play offense, and defense, and even goal as we use tennis balls to train.  In the 3x session we can get a ton of development especially if the players are using their skills, and the communication they've learned through our training.  If you watched Day 1 vs. Day 2 the 3x games looked much improved as players were talking and using their windups / movements.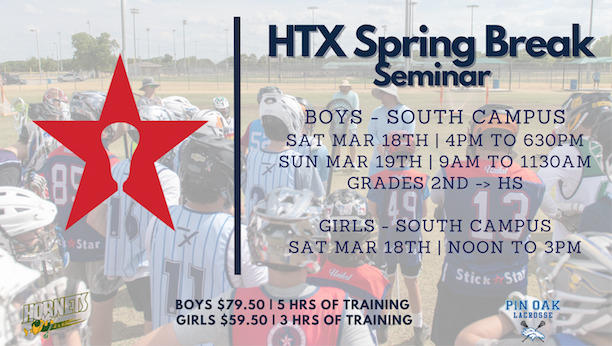 Ultimately, by the end of the weekend players were using their new skills / understanding and moving.  We teach movement, and the basics of movement.  Everything compounds, and builds.  Players who consistently train in our system / style layer these skills on, and become more proficient.  Many parents understand Compound Interest.  As a Finance Major, compound interest is at the heart of our developmental methodology.  While kids layer these skill sets on at different rates, they all figure them out if they remain consistent.
Our next opportunity for development is Spring Break.  We hope many of you will make it out again!  Also, if your player learned, had fun, and left wanting more, please pass the word on as we recruit from within.  Once players get out there, they enjoy it, once they get past the fact that is completely different.
We started our Seminars 11 years ago at a gym at HCHS.  We are so thankful to be coming back down to Houston to train!  We will offer both girls and boys training.  Please spread the word!
10 of these players went on to play NCAA Lacrosse!