Tuesday evening at Highlander Stadium the Highland Park Scots tallied arguably the most historic TX HS Lacrosse victory over an out of State opponent EVER, defeating Garden City (N.Y) 9-8. Senior Goaltender, and Loyola commit Ben Abel put on an incredible display withstanding a 5 shot barrage in the final minute to preserve the one goal Scots victory.  The kid stood on his head behind a bend but don't break Highland Park Zone defense.  When you have a goalie of Abel's caliber, and arguably the best player in the State of Texas, a zone defense is an excellent idea.
Again, to set the stage, when we stepped into the Stadium the score was 5-3 Scotties up.  As the game played on GC was never able to go on a big run.  Every time the GC Trojans would earn a goal in their favor, HP would respond.  That is easier said than done.  It is hard to make sure a team of Garden City's caliber doesn't go on a run, but with Ben Abel in goal, it gets slightly easier.  HP has many bright spots on offense, and one of them was the senior duo of Quinn Gordon and Wesley Iverson.  Gordon had 2 goals in the middle of the game that really helped maintain their lead, he may have also had a goal earlier (prior to our arrival).  Wesley Iverson did something we are thrilled to see, he started dodging physically.  A player who is large in stature finally started using it.  If he continues this trend, teams are in a tough spot, and with that being said Iverson had the 9th goal for the Scots, and the eventual Game Winner.  For the 2023 seniors it was a great evening, as Frank Mousa also made some huge plays at the FO X against an incredibly talented GC drawman.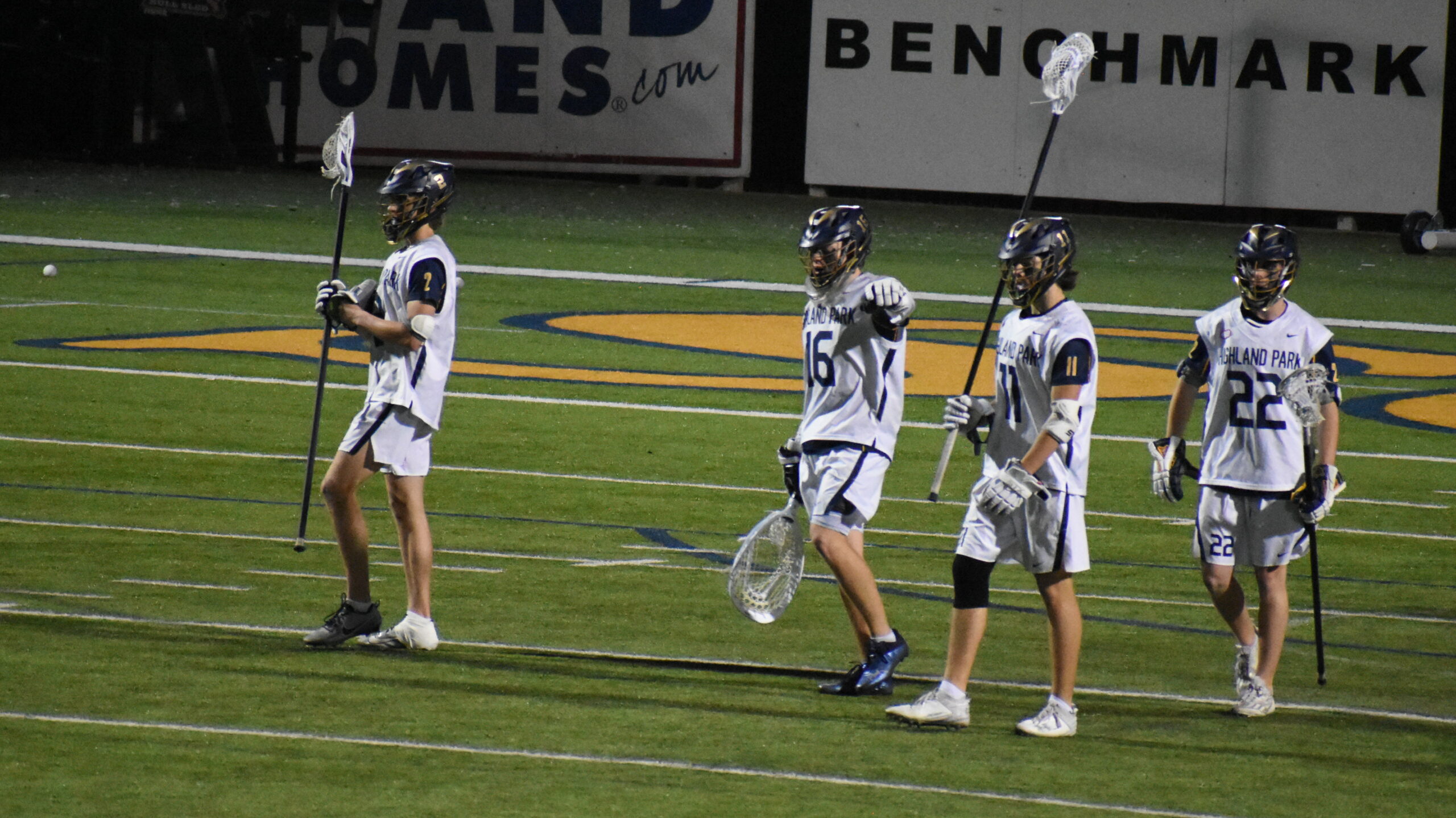 The entire game came into focus late as Garden City started to work the ball inside and finish.  It was one of those days for the Trojans.  They didn't play their best, unforced turnovers in transition, some bounces that didn't go their way, and more than their fair share that went off the pipe.  The Scots however put them in this position by making their plays on offense, and holding fast on defense.  With 7 minutes remaining in the 4th it was HP up by 3, and very quickly it was only a 1 goal deficit with 3:43 remaining. The game tightened up in a moment and it was just then where we would see the resolve of the Scots.  A couple of failed clears and HP was just getting peppered with shots, but to their credit they never relented and ultimately closed it out, on the defensive side of the field.
With this victory the Highland Park Scots reaffirm they are 100% a State Champion contender.  While their may have been some doubt earlier in the season, there is none now.  Defense wins Championships and now the Scotties will take that attitude up the Tollway to visit their Rivals the Jesuit Rangers this Friday.
We were exceptionally impressed with Garden City, of course.  Personally, my College Teammate / Roommate was from GC so we've always known about their talent back to the days of Tom Garvey, Peter LeSeur, and Doc Dougherty.  We also know tons about their food including the Chicken Parm slide from Momma T's and the Sausage and Cheese from Dirty Deli.  Their style, skill set, and athleticism were excellent and in just their 6th game of the season you know they will continue to round into form.  Compare that to HP who just finished their 16th game clearly they are in different parts of the season.  As someone online responded its all about what you do in June.  That is when NY playoffs are, June, wild!
Regardless, the magnitude of this win can't really be quantified.  The last time HP pulled off an upset like this was at New Meadowlands stadium where Dillon Zweifel dummy dodged down the alley, rolled back to move the ball to Chase Prospere, Zweifel set one for Austin Mai and Chase Prospere delivered it perfectly.  Austin Mai walked it off on "I LIKE IT" against the Lawrencville School in 2010.  Of course, StickStarReport remembers because we have been covering the sport for a long time in the LoneStar State.  Texas Lacrosse historians some might say!  That win was on the road, this one at home, but I have to say that a win against Garden City is arguably the biggest win EVER against an out of State Opponent!
Content is really starting to heat up as the 2nd half of the season is coming fast and furious down the home stretch.  StickStar will have you covered every step of the way.  Again, we are covering it all as we are about to jump on the mic and discuss our latest round of Tuesday Top 5, but there is no doubt there is plenty of action as we roll through April.
We ask that you Please LIKE & SUBSCRIBE TO OUR YOUTUBE!  It takes 2 seconds and is huge for us.  We will have tons of highlights available on our socials, and we will be highlighting a new portion of our content, the Recruiting Radar in the next couple of days!  Also, if you're up for it, please Support the Report by purchasing one of our many awesome hats!
StickStar is looking to "Lead the Discussion" on Texas Lacrosse. This years StickStarReport content is presented by MHMLiving.com.  Stay dialed into our new site, www.StickStarLacrosse.com, our socials on twitter / instagram @StickStarLax.  We appreciate it!