Sunday afternoon at Gene and Jerry Jones Stadium the Woodlands Highlanders defeated the ESD Eagles 5-4 in inter district action! Led by Lenoir Rhyne bound, senior midfielder, Cooper Starcke's three goal effort, the Highlanders won their 2nd huge game in Dallas after defeating Garden City, NY earlier this week.  Let us not underscore the Garden City victory as beating the Trojans is a massive moment in any programs history!  It is arguably the 2nd biggest win for the Woodlands after winning the State Title in 2018.
Also contributing for the Highlanders were sophomore attackman Kimo Kouletsis with one goal and an assist, while Jack O'Rourke, and Ridge Crouch each had an assist as well.
Coming down the stretch every game is super important when you are trying to figure into the Top 8 teams trying to advance to the AA State Championship Tournament.  Everyone is jockeying for a higher seeding as it all calculates into the Tourney Calculus.  The Woodlands Highlanders were in a great spot heading into this weekends match up as they have just rattled off 9 wins in a row over the likes of Garden City, La Costa Canyon, Southlake, and Jesuit Oregon.  ESD has also been trending in a positive direction with a quality win over Dallas Jesuit just a couple of weeks ago.
In a losing effort Sean Browne and Josh Logan each contributed one goal and one assist, while Blair Brennan and Camden Konradi each scored once as well.
This game was tight throughout as the Woodlands were up 2-1 at the end of the first, and then 4-1 at the half.  Heading into the final period I believe it was 4-4 all tied up.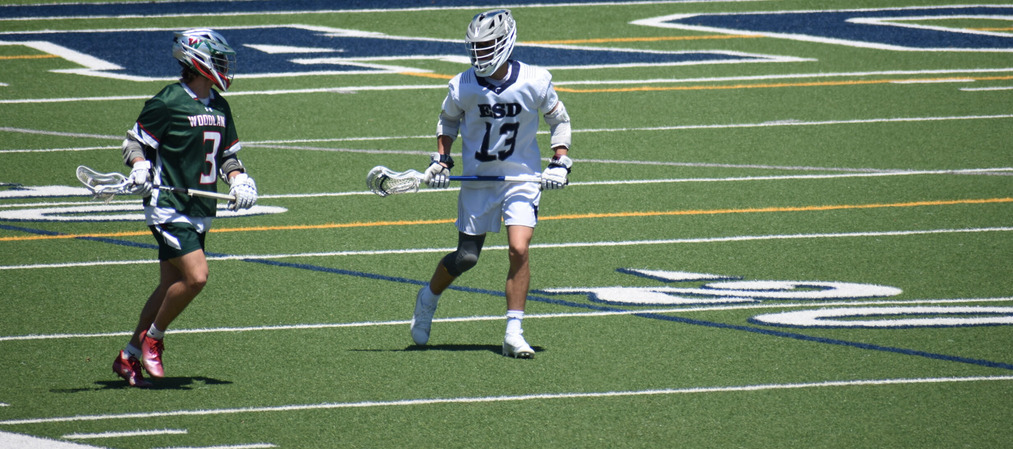 Sunday was a beautiful day for a lacrosse game.  A nice cool breeze, two quality opponents lined up ready to compete.  It was the first time, I'd (Anthony Crimmins) had the opportunity to watch these two teams compete in 2023 and I was really looking forward to it.  Right off the bat, both defenses were brilliant.  Each team has tremendous fire power so to keep this game under double digits on both sides is pretty impressive.  All of the goalies did their part throughout the game.  The 2 headed monster of Steele Croom and Christian Clinton was solid for TWHS and Conner Kowalewski was equally capable for the Eagles.
Both of these teams seamed evenly matched.  The Highlanders have been putting up tons of goals all season long, but the Eagles defense led by juniors Eddie Ellfeson and TJ Gatchell were up to the task.  Gatchell, and attack conversion is an absolute monster.  A huge left who can handle when the ball goes on the ground was fun to watch.  Ellefson drew the difficult initial match up against arguably one of the best 2025 attackmen in the country Kimo Kouletsis.  Ellefson did his part however as Kimo only registered 1 goal and 1 assist while drawing tons of attention.  Ellefson communicates well and will saw your arms off if given the opportunity.
The Woodlands defense was also up to the task.  Senior Elijah Porter was hearing it from the crowd all game, but he handled it in stride limiting Sean Browne all afternoon.  While the Highlanders defense applied pressure the Eagles didn't do themselves any favors.  ESD  wasted tons of possessions and committing countless unforced turnovers.  It is hard to win when you turnover the ball over a ton, and ultimately it cost the Eagles this day.  Regardless, the Eagles still had plenty of opportunities, and the ball with their best player as the final moments of the game ticked on, but ultimately Sean Browne couldn't get to the middle and the game expired.
The Woodlands offense looked methodical.  They move the ball with purpose, do not settle for shots, but didn't convert at their usual clip.  We can see however, when this team is finishing the ball the ability for them to get buckets of buckets.  They are selfless and have no problem getting the right one when they need to.
Heading into the final weeks of the season each of these programs takes different paths.  ESD looks to compete for another SPC title where they will likely meet up at some point against the St. Marks Lions, if everything goes to plan.  Then the final game for the Eagles is their arch nemesis, the Highland Park Scots.  The Woodlands finishes up their season with a big game against Houston Rival Memorial, and then the last game of their regular season against the Westlake Chaps.  There are no gimmes as we head down the home stretch.
Content is really starting to heat up as the 2nd half of the season is coming fast and furious down the home stretch.  StickStar will have you covered every step of the way.  Again, we are covering it all as we are about to jump on the mic and discuss our latest round of Tuesday Top 5, but there is no doubt there is plenty of action as we roll through April.  We are so thrilled with how everyone is receiving the Top 5's.  It seams as though people are talking about them.  Whether you like them, criticize them, or think we are out of our mind, that's all good as we look to lead the discussion!
We ask that you Please LIKE & SUBSCRIBE TO OUR YOUTUBE!  It takes 2 seconds and is huge for us.  We will have tons of highlights available on our socials, and we will be highlighting a new portion of our content, the Recruiting Radar in the next couple of days!  Also, if you're up for it, please Support the Report by purchasing one of our many awesome hats!
StickStar is looking to "Lead the Discussion" on Texas Lacrosse. This years StickStarReport content is presented by MHMLiving.com.  Stay dialed into our new site, www.StickStarLacrosse.com, our socials on twitter / instagram @StickStarLax.  We appreciate it!